I specialize in
Boulder, Colorado, real estate
sales -- not rentals. Nevertheless, it's interesting to look at rental data and see how it compares to neighboring cities in Colorado.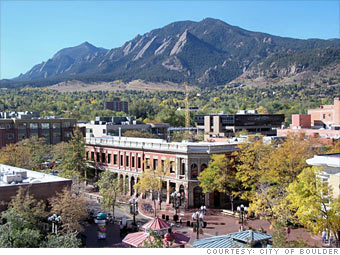 Just how desirable is Boulder and what are home-seekers willing to pay for a
Boulder address
and the incredible lifestyle that Boulder offers its residents?
Plus, there is always a good chance that today's renters are tomorrow's buyers, so it's good for me to keep a pulse on the Boulder rental market. And that market is on fire!
While vacancy rates in the Denver-metro area hit a two-year high by December of 2008, the vacancy rates in Boulder and Broomfield counties declined from 5.9% in Q1 of 2008 to 3.9% in Q4 2008. Rentals are hard to come by in Boulder and that means they aren't cheap either. The average rent for apartments in Boulder and Broomfield counties has jumped 18% since late 2007 to $1,453, which is the highest on the Front Range. Denver's average apartment rent is $995. This data all pertains to apartments rentals and its surge likely can be attributed to a thriving student population at
University of Colorado
. The University's largest freshman class in years is currently in the dorms and looking for off-campus housing for the 2009-2010 school year.
With interest rates low and resale inventory plentiful, it's a prime time for CU parents who may be thinking of purchasing a Boulder rental for their college-aged kids. Our office at
Sotheby's International Realty
is located in the heart of
Boulder
at 1500 28th Street. Our team's native knowledge of Boulder can be a great tool for those considering the purchase of a rental investment. Call us at 303-440-4999,
email us
or stop by our office today.